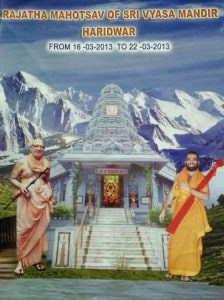 Dear Samaj Bhandavas
Sri Vyasa Ashram of our Shree Kashi Math Samsthan, Haridwar will celebrate Rajath Mahostsav (Completion of 25 years) of Sri Vyas Mandir from 18/03/2013 to 22/03/2013 at Haridwar.
We are fortunate, our Dharmaguru, H.H Shrimath Sudheendra Thirtha Swamiji, Mathadipathi of Shree Kashi Math Samsthan, along with their Patta Shisya H.H Shrimath Samyamindra Thirtha Swamiji will grace us on the occasion and bless all the shishyavargas attending the function.
We consider ourselves blessed that His Holiness has bestowed upon us the Seva Samrpan Bhagya during this period in response to our vinanthi to serve Hari Guru. It is our ardent desire that you shall share in our fortune along with your family by actively participating during this function.
Most sincerely,
Shree Hari Guru Seva Pratisthan and GSB Samaj, New Delhi
Note:
1) Devotees may Offer various sevas to Sri Hari Guru during the RAJATH MAHOTSAV
2) Samaj Bhandhavas/ Institutions are reuested to sent their email id so that we can update you on events time to time.
3) For any enquiries mail us to hariguruseva@rediffmail.com or support@hariguruseva.com
4) Phone Nos. Mumbai – +919323191165
Delhi – +919810062758
RELIGIOUS , SPIRITUAL & CULTURAL PROGRAMMES
Religious
1) Laghu Vishnu Parayana & Abhisheka
2) Bhagwath Parayana
3) Vishnu Sahasranama Namaskara
4) Vedavyasa Sahasranama & Lakshayarchana
5) Laksha Kumkum Archan, Laxminarayana Hriday Havan
Spiritual
1) Ekaha Bhajan Mahostsav(24 hours) under
the guidance of Pandith Upendra Bhat
2) Vyasopasana – under the guidance of
Shree Umesh Bhat,Shree Hemaprakash Shenoy
Shree Prakash Bhat
3) Vyasa Dwaja will be distributed at prominent
places from where Upasana starts.
4) Hore Kanika from Various Temples
( Bharath Mata Mandir)
Cultural
1) Bhajan Sandhya by Sarwath Kala Sangham
Pt.Upendra Bhat, Shri Puttur Narasinha Nayak
Shree Shankar Shanbhagh, Ms.Mahalaksmi Shenoy
Shri Satyavijay Bhat, Shri Bhalachandra Prabhu Murje
2) Konkani Drama by Udupi Team
Direction by M Devadas Pai
Yakshagana Bayalatha in Konkaniby
Janapriya Yakshagana Mandal, Mumbai
HH Swamiji will be honouring two gracious personalities who
dedicated services to Vyasa Mandir , Haridwar
1) Shri C V Kamath, Mangalore
2) Shri KUndapura Shantharam Bhat, Mumbai
GSB Samaj Delhi will provide all facilities free of cost to Samaj Bandhavas.