Sri Venkataramana Temple,
Carstreet, Mangalore.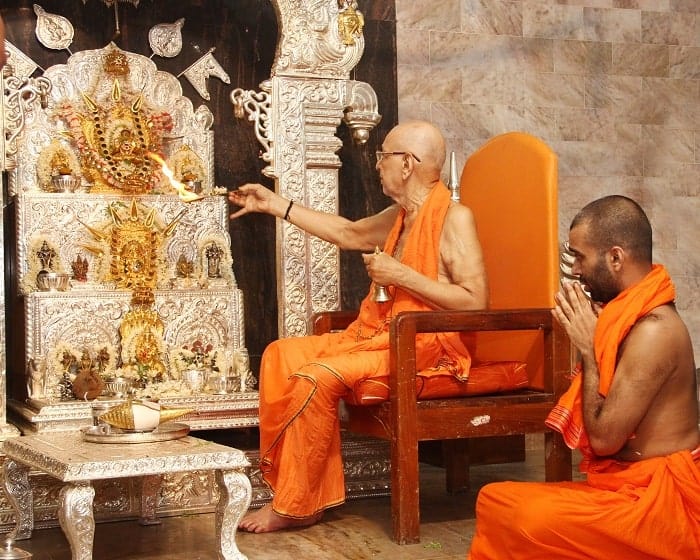 Dear Samaj Bhandavas,
On Jeshta Bahula Dashami (Corresponding Tuesday|02 July 2013) it will be one year since our Sri Samsthan's Aradhya Devatha – Sri Vyasa Raghupathi Narasimha have adored the Simhasana and have been blessing us immensely. In order to commemorate this great event, With the blessings of H.H Shrimath Sudhindra Thirtha Swamiji (Mathadhipati of Shree Kashi Math Samsthan), it has been decided to perform "Sri Satyanarayan Pooja" in Sri Math.
Therefore all Samaj Bhandavs are requested to participate and be a part of Sri Hari-Guru Kripa.
– Trustees,
Sri Venkataramana Temple,
Mangalore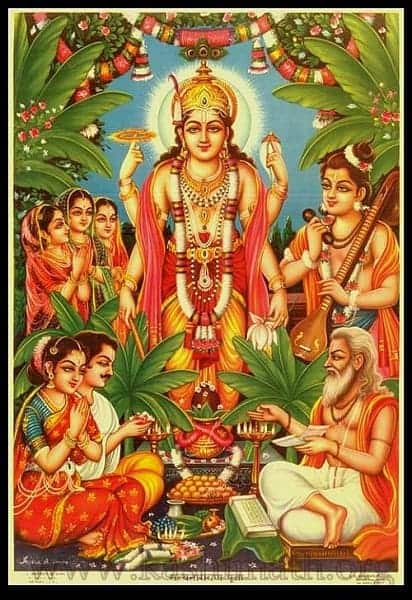 Programme Details :
06:00 P.M – Kalasha Poorane, Pooja, Katha Shravana
Bhajana Karyakram, Pradakshina-Namaskara in the Divine Presence of H.H Swamiji
08:00 P.M – Mangalarathi by H.H Swamiji
Pooja Prasad Distribution, followed by Bhojan Prasad.
ಶ್ರೀ ವೆಂಕಟರಮಣ ದೇವಸ್ಥಾನ, ರಥಬೀದಿ, ಮಂಗಳೂರು.
ಪ್ರಿಯ ಸಮಾಜ ಬಾಂಧವರೇ,
ನಮ್ಮ ಸಂಸ್ಥಾನಾರಾಧ್ಯ ಶ್ರೀ ವ್ಯಾಸ ರಘುಪತಿ ದೇವರು ಸಿಂಹಾಸನಾರೋಹಣ ಮಾಡಿ ನಮ್ಮನ್ನು ಅನುಗ್ರಹಿಸಿದ ಮಹಾಪರ್ವದಾ ದಿನವಾದ ಜೇಷ್ಠ ಬಹುಳ ದಶಮಿ, ಇದೇ ಬರುವ ದಿನಾಂಕ 02-07-2013ರ ಸಂಜೆ ಶ್ರೀ ಸಂಸ್ಥಾನ ಕಾಶೀ ಮಠಾಧೀಶ ಶ್ರೀಮತ್ ಸುಧೀಂದ್ರ ತೀರ್ಥ ಶ್ರೀಪಾದಂಗಳವರ ಅನುಗ್ರಹ ಆಶಿರ್ವಾದದೊಂದಿಗೆ ಶ್ರೀ ಮಠದಲ್ಲಿ "ಶ್ರೀ ಸತ್ಯನಾರಾಯಣ ಪೂಜೆ"ಯನ್ನು ಮಾಡುವುದಾಗಿ ನಿಶ್ಚಯಿಸಿದ್ದು, ಈ ಪುಣ್ಯಪ್ರದ ಸೇವೆಯಲ್ಲಿ ತಾವೆಲ್ಲರೂ ಬಂದು ಭಾಗಿಗಳಾಗಿ ಶ್ರೀ ಹರಿ ಗುರು ಕೃಪೆಗೆ ಪಾತ್ರರಾಗಬೇಕಾಗಿ ವಿನಂತಿ.
-ಮೋಕ್ತೆಸರರು
 ಕಾರ್ಯಕ್ರಮ :
ಸಂಜೆ 06:00ಕ್ಕೆ –        ಕಲಶ ಪೂರಣೆ, ಪೂಜನೆ, ಕಥಾಶ್ರವನಾದಿ
ಭಜನಾ ಕಾರ್ಯಕ್ರಮಗಳು, ಶ್ರೀಗಳವರ ಉಪಸ್ಥಿತಿಯಲ್ಲಿ ನಮಸ್ಕಾರ,
08:00ಕ್ಕೆ                   ಮಂಗಳಾರತಿ (ಶ್ರೀಗಳವರ ಅಮೃತ ಹಸ್ತಗಳಿಂದ)
ಪೂಜಾ ಪ್ರಸಾದ ವಿತರಣೆ
ತದನಂತರ ಭೋಜನ ಪ್ರಸಾದ