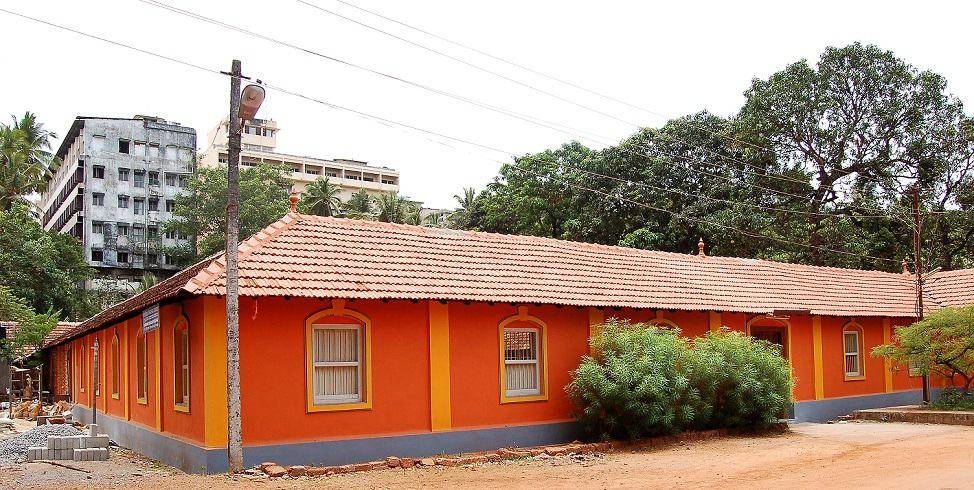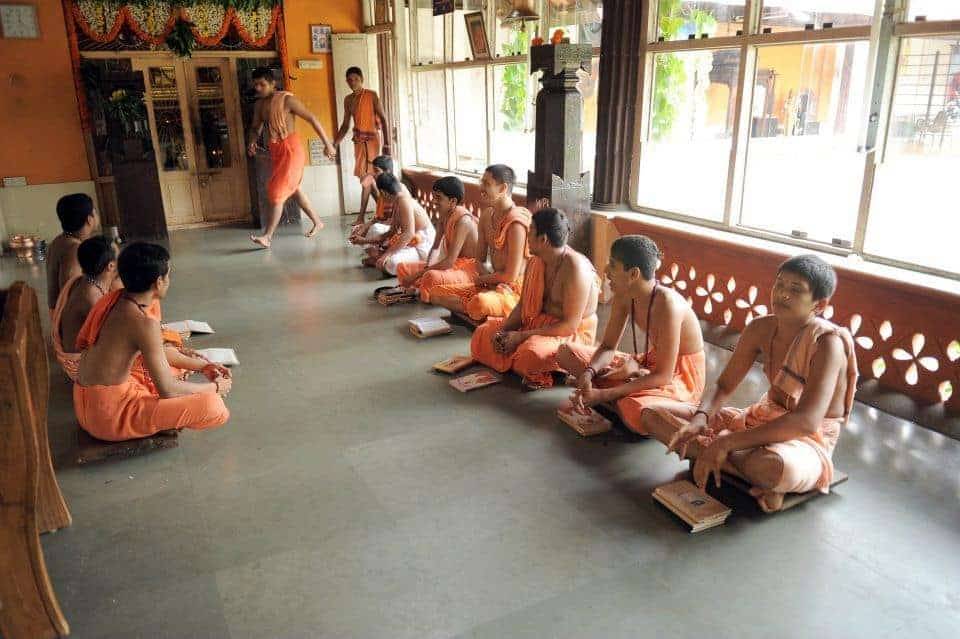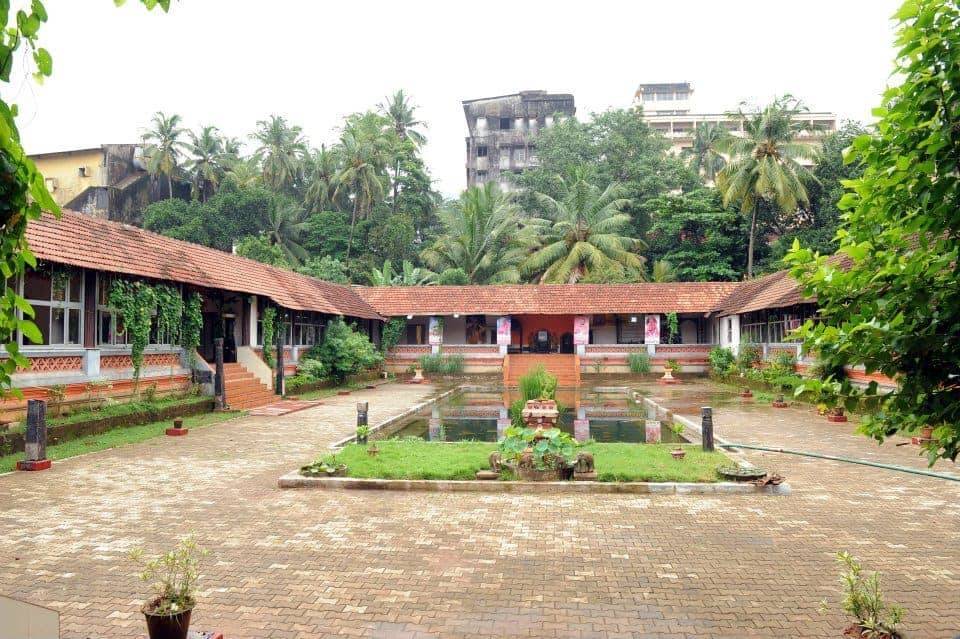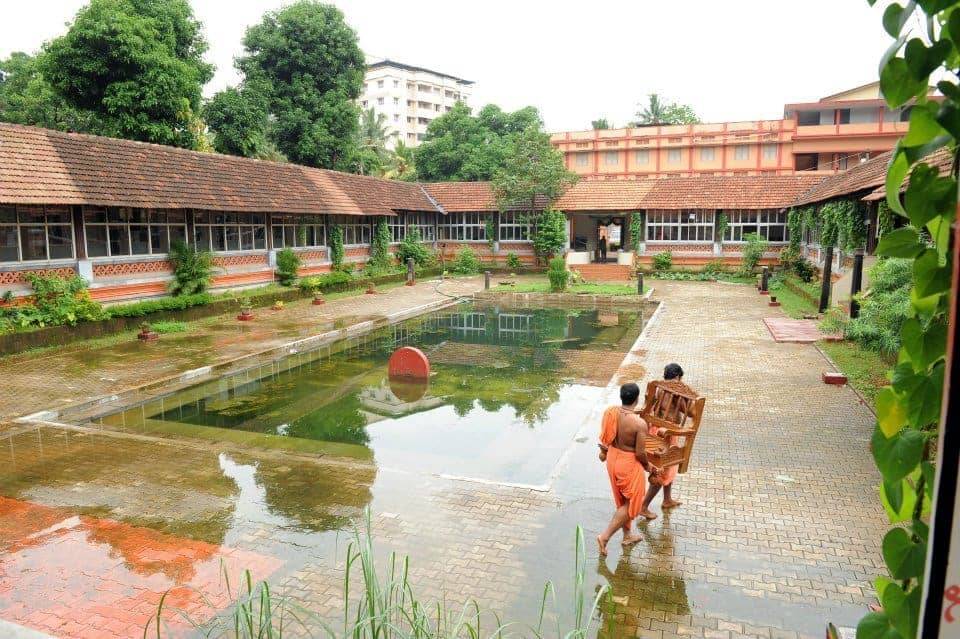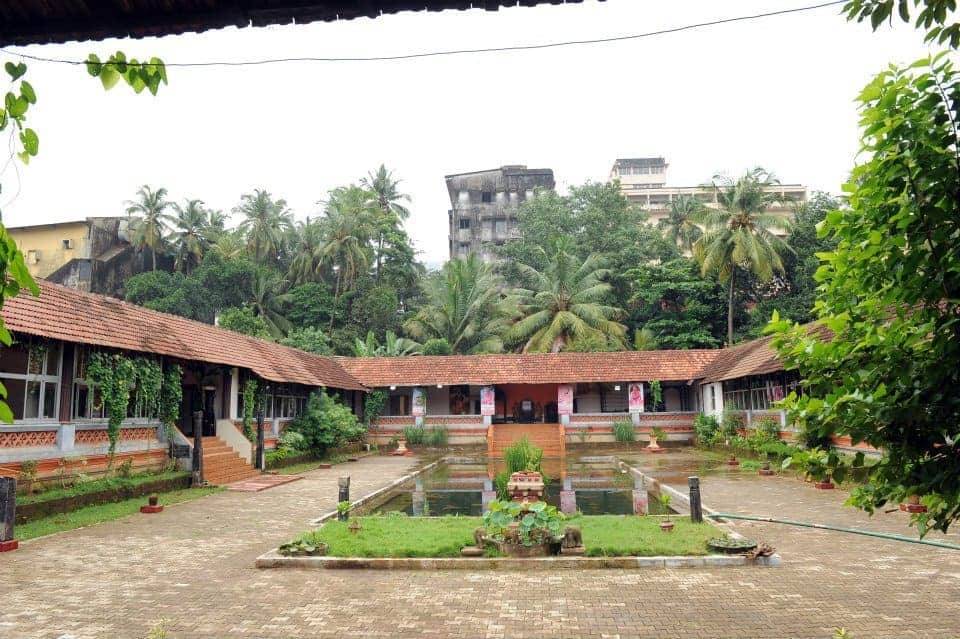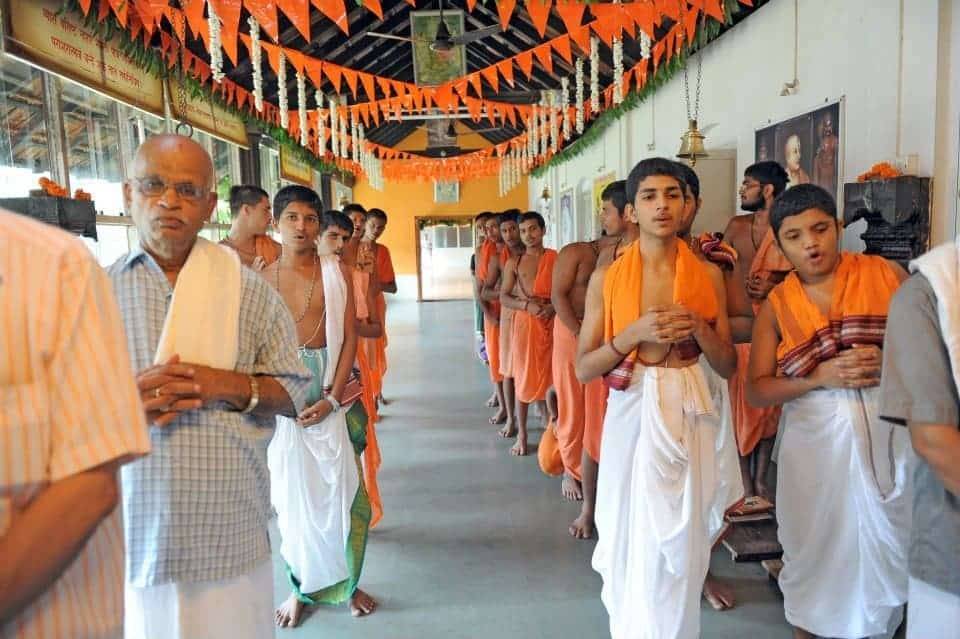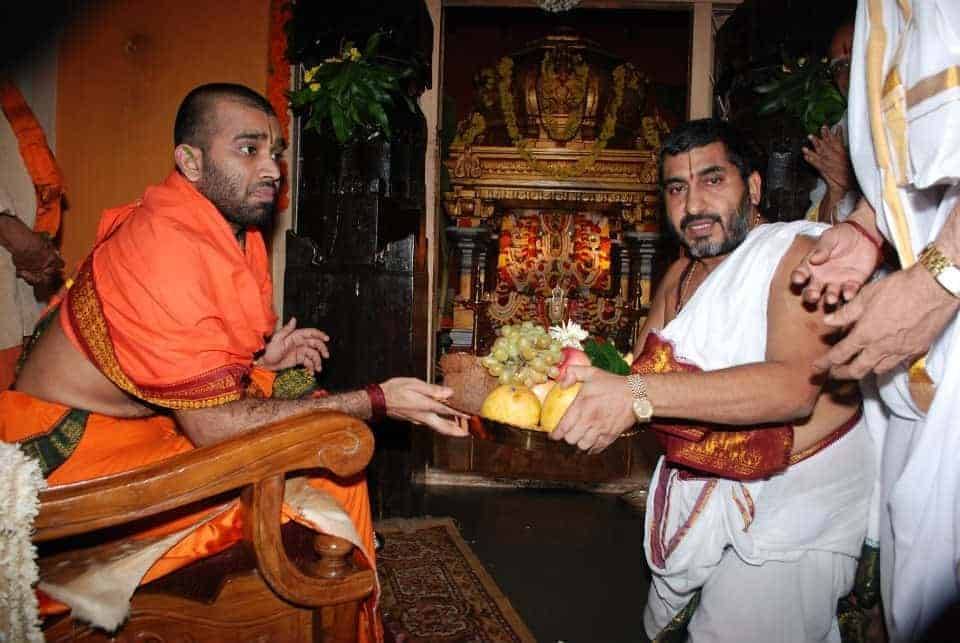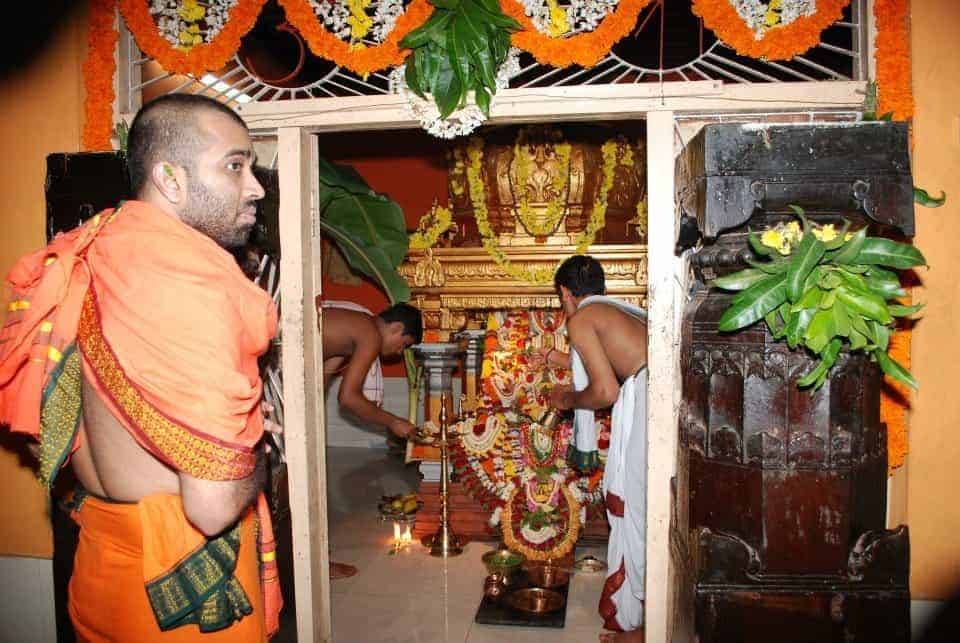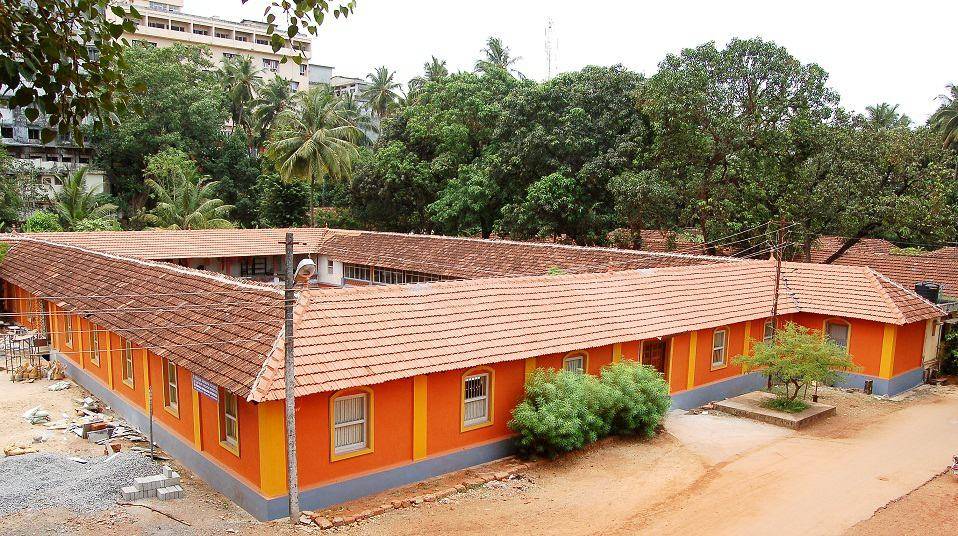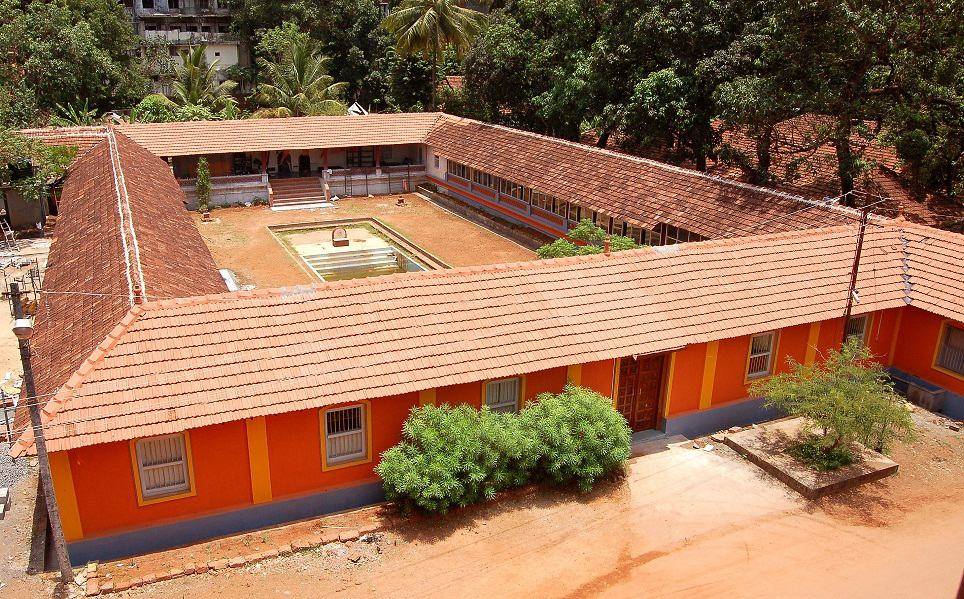 Shri Srinivasa Nigamagama Pathashala is a Veda Pathashala owned and managed by Shree Kashi Math Samsthan. This is the only institution, under the direct supervision of H.H. Swamijis' of Shree Samsthan, which offers a three-year course of Vedic education.
The Pathshala is located in a serene location housing the Pushkarini of Sri Venkataramana Temple, Carstreet-Mangalore. It is also surrounded by Shri Mahamaya, Lord Vithoba, Shri Krishna and Sharavu Mahaganapathi temples.
Considering the increasing interest in Vedic learning in our GSB Samaj, H.H Shrimath Sudhindra Thirtha Swamiji, Mathadhipathi of Shree Kashi Math Samsthan felt the need to have a Veda Pathashala meant to serve the purpose.
In the year 1971, Swamiji took over the administration of Shri Srinivas Nigamagam Pathashala, practising the age-old Gurukula System. This unique institution has been imparting traditional education of high standards to its inmate students. The education is free to all students. All the interested students can join the Pathashala after completing 7th Standard (or equivalent) of normal schooling. It is well known for excellent facilities, good environment and the able Gurus under whose teaching and guidance our society has prospered all these years.
Pathashala was renovated completely and inaugurated by H.H Shrimath Sudhindra Thirtha Swamiji on 9th May 2006.
Till date, Sri Srinivas Nigamagama Pathashala has published more than 50 educational subject books in the Devanagari Script which have been authored by the Principal of the Pathashala, in the name Granthamala, all of which were inaugurated by Sri Swamiji.
Shri Shringeri Sudhakar Bhat (Principal) – Veda
Shri Sunil Bhat – Samskrit
Shri Haradi Yogish Bhat – Karmanga
Shri Narasimha Bhat – Jyotishya
And others (Timely)
Subjects Taught:
Rik-Samhitha – (1-8 Asthak)
Brihat-Mantra Samhitha – (1-2)
Yajurveda – (1 Chapter)
Upanishad – (10 Upnisad)
Brihma Sutra – Moola
Dwadasha Stotras
Gita
Sapthashati – Laxminarayana Hridayam etc
Sahasranamas – Shri Vishnu – Laxmi – Vyasa etc
Jithanthe Stotradi – Mangalastakas
Vayu Stuthi – Narasimhastuthi – Gadya etc
Along with Deva Prayogas Pooja, Sandhya Vandana, students also learn
Sthapana Vidhi
Aparakarma Shanti
Shodasha Samskaras
Jyothisya Muhoorta Madhavi
Brihat Jathaka
Prashnamarga
Ganita etc
About Sanskrit language and literature, the students are taught
Thrikanda Amarakosha Full  – Baladarshadi Books
Kumar Sambhava – Raghuvamsha – Champoo – Naataka
Neethishataka etc
Some Madhva Books Moola Only.
Not only the regular Adhyapakas, but visiting scholars also impart knowledge to the students. All students are practically taught Trikaal Pooja, Parva Pooja Havanas and observe Vyasopasana every Thursday.
The study course is of three years, where 9 Exams are conducted (one in every four months) including annual exams at the end of the year. The first eight exams are conducted by the regular Adhyapakas of the Pathashala, while the 9th is conducted by a guest Vaidiks.
The titles (1)Purohitha Rathna, (2) Purohitha and (3) Archaka are bestowed upon successful students and are awarded certificates with the Hasthakshar (signature) of HH Swamiji.
On auspicious occasions students do Veda Parayanam in the temple (Invited to), poojas and Parayanam on the days of Chathurmasa of H.H. Swamiti in Navarartri Days.
Every year Parayana at Holy Vrindavans, Bhatkal, Hemmadi, Basruru, Bantwal, Manjeshwar etc.
The society should give wide publicity to the activities conducted to reach the higher goal.
Samaj Bhandavs are encouraged and willing to  donate, Donations in cash or may also donate items fulfilling the daily needs of the students and be a part of Sri Hari Guru Kripa.
All G.S.B. Students from all states are taught in Matrabhasha (Konkani).
In the service of society
The institution is also helping the general public who would like to learn 'Sandhya Vandana' and 'Deva Pooja'. There are classes provided in Sanskrit language also teaching Bhajans, Computer, Sanskrit and other communicative languages, etc, have also been introduced. The institution encourages self study and to bring professionalism in learning.
For Further Details Contact:
Vidwan Shri Shringeri Sudakar Bhat (Principal)
Shri Srinivasa Nigamagama Pathashala,
V.T Road – Mangalore, (KA IN)
Ph: +91 9449316507 (M)