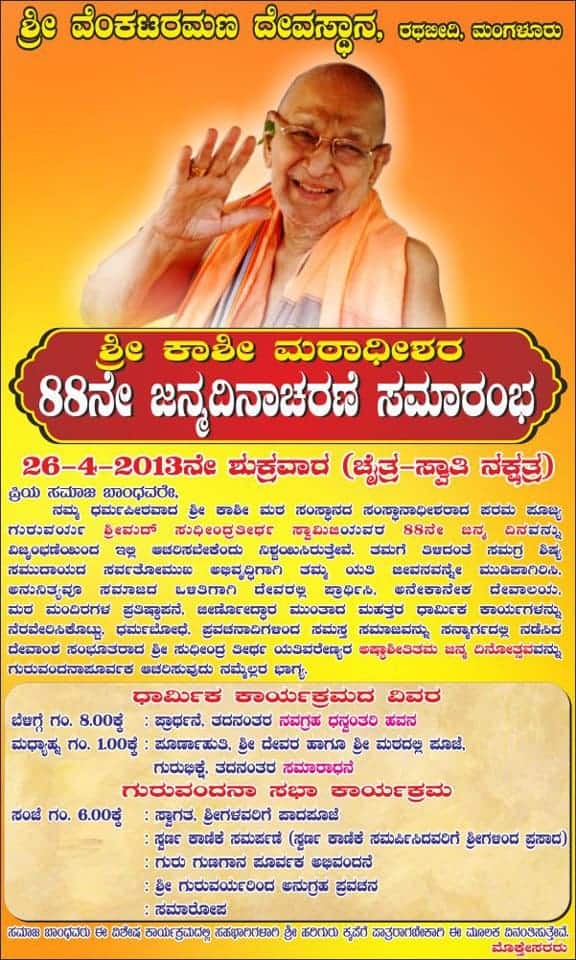 INVITE (ENGLISH) :
Dear Samaj Bhandavas,
The 'Swathi Nakshatra' of the Chaithra Masa, corresponding to Friday, the 26th April 2013 is the auspicious day on which we will be celebrating the 88th Birthday of our Dharma Guru, His Holiness Shrimath Sudhindra Thirtha Swamiji, Mathadhipati of Shree Kashi Math Samsthan in a befitting manner with religious rituals and the Guru-Vandana programme at Sri Venkataramana Temple Mangalore. The programmes for the day are as detailed herebelow :
PROGRAMME :
08.00 a.m – Prarthana – followed by Sri Navagraha Dhanwanthari Havana
08.00 a.m – Prarthana – followed by Sri Navagraha Dhanwanthari Havana
01.00 p.m – Poornahuthi, Madhyana Pooja, Gopooja, Guru Bhiksha, Samaraadhana
Guruvandana:
06.00 p.m – Swagatha Samarambha – Guru Padapooja
– Swarna Kanike Samarpana (Devotees offering Swarna Kanika will receive prasadam from His Holiness)
– Guru Gunagana Speeches
– Ashirvachan by H.H Swamiji
Indeed, it is the good fortune of the Shishya Warga being able to participate in the above holy celebrations, an occasion to pay obeisance reverentially at the lotus feet of Parama Poojya Swamiji under whose guidance and blessings our samaj has witnessed significant transformation and progress in every walk of life. No words would be adequate for a complete appreciation of what our Gurudev has achieved in the field of propagation of Dharma. It may be pointed out that the innumerable temples, mandirs and the branch maths founded, consecrated and renovated by His Holiness during the last several decades speak volumes about the glory of the era and the greatness of the Dharma Peetha of name and fame.
We take this opportunity of extending our cordial invitation to you for your personal participation in the above celebrations to be worthy of the blessings of Sri Hari Guru.
With regards,
Yours sincerely,
Trustees, Sri Venkataramana Temple,
Carstreet, Mangalore – 575001.
INVITE ( KANNADA ) :
ಶ್ರೀ ಕಾಶೀ ಮಠಾಧೀಶರ ಶ್ರೀಮದ್ ಸುಧೀಂದ್ರತೀರ್ಥ ಸ್ವಾಮಿಜಿಯವರ 88ನೇ ಜನ್ಮದಿನಾಚರಣೆ ಸಮಾರಂಭ
26-4-2013ನೇ ಶುಕ್ರವಾರ (ಚೈತ್ರ-ಸ್ವಾತಿ ನಕ್ಷತ್ರ) ನಮ್ಮ ಧರ್ಮಪೀಠವಾದ ಶ್ರೀ ಕಾಶೀ ಮಠ ಸಂಸ್ಥಾನದ ಸಂಸ್ಥಾನಾಧೀಶರಾದ ಪರಮ ಪೂಜ್ಯ ಗುರುವರ್ಯ ಶ್ರೀಮದ್ ಸುಧೀಂದ್ರತೀರ್ಥ ಸ್ವಾಮಿಜಿಯವರ 88ನೇ ಜನ್ಮ ದಿನವನ್ನು ವಿಜೃಂಭಣೆಯಿಂದ ಇಲ್ಲಿ ಆಚರಿಸಬೇಕೆಂದು ನಿಶ್ಚಯಿಸಿರುತ್ತೇವೆ. ತಮಗೆ ತಿಳಿದಂತೆ ಸಮಗ್ರ ಶಿಷ್ಯ ಸಮುದಾಯದ ಸರ್ವತೋಮುಖ ಅಭಿವೃದ್ಧಿಗಾಗಿ ತಮ್ಮ ಯತಿ ಜೀವನವನ್ನೇ ಮುಡಿಪಾಗಿರಿಸಿ,
ಅನುನಿತ್ಯವೂ ಸಮಾಜದ ಒಳಿತಿಗಾಗಿ ದೇವರಲ್ಲಿ ಪ್ರಾರ್ಥಿಸಿ, ಅನೇಕಾನೇಕ ದೇವಾಲಯ, ಮಠ ಮಂದಿರಗಳ ಪ್ರತಿಷ್ಠಾಪನೆ, ಜೀರ್ಣೋದ್ಧಾರ ಮುಂತಾದ ಮಹತ್ತರ ಧಾರ್ಮಿಕ ಕಾರ್ಯಗಳನ್ನು ನೆರವೇರಿಸಿಕೊಟ್ಟು, ಧರ್ಮಬೋಧೆ, ಪ್ರವಚನಾದಿಗಳಿಂದ ಸಮಸ್ತ ಸಮಾಜವನ್ನು ಸನ್ಮಾರ್ಗದಲ್ಲಿ ನಡೆಸಿದ ದೇವಾಂಶ ಸಂಭೂತರಾದ ಶ್ರೀ ಸುಧೀಂದ್ರ ತೀರ್ಥ ಯತಿವರೇಣ್ಯರ ಅಷ್ಠಾಶೀತಿತಮ ಜನ್ಮ ದಿನೋತ್ಸವವನ್ನು ಗುರುವಂದನಾಪೂರ್ವಕ ಆಚರಿಸುವುದು ನಮ್ಮೆಲ್ಲರ ಭಾಗ್ಯ.ಧಾರ್ಮಿಕ ಕಾರ್ಯಕ್ರಮದ ವಿವರ ಬೆಳಿಗ್ಗೆ ಗಂ. 8.00ಕ್ಕೆ : ಪ್ರಾರ್ಥನೆ, ತದನಂತರ ನವಗ್ರಹ ಧನ್ವಂತರಿ ಹವನಂ ಮಧ್ಯಾಹ್ನ ಗಂ. 1.00ಕ್ಕೆ : ಪೂರ್ಣಾಹುತಿ, ಶ್ರೀ ದೇವರ ಹಾಗೂ ಶ್ರೀ ಮಠದಲ್ಲಿ ಪೂಜೆ, ಗುರುಭಿಕ್ಷೆ, ತದನಂತರ ಸಮಾರಾಧನೆ ಗುರುವಂದನಾ ಸಭಾ ಕಾರ್ಯಕ್ರಮ
ಸಂಜೆ ಗಂ. 6.00ಕ್ಕೆ : ಸ್ವಾಗತ, ಶ್ರೀಗಳವರಿಗೆ ಪಾದಪೂಜೆ , ಸ್ವರ್ಣ ಕಾಣಿಕೆ ಸಮರ್ಪಣೆ (ಸ್ವರ್ಣ ಕಾಣಿಕೆ ಸಮರ್ಪಿಸಿದವರಿಗೆ ಶ್ರೀಗಳಿಂದ ಪ್ರಸಾದ):
– ಗುರು ಗುಣಗಾನ ಪೂರ್ವಕ ಅಭಿವಂದನೆ :
– ಶ್ರೀ ಗುರುವರ್ಯರಿಂದ ಅನುಗ್ರಹ ಪ್ರವಚನ :
– ಸಮಾರೋಪ ಸಮಾಜ ಬಾಂಧವರು ಈ ವಿಶೇಷ ಕಾರ್ಯಕ್ರಮದಲ್ಲಿ ಸಹಭಾಗಿಗಳಾಗಿ ಶ್ರೀ ಹರಿಗುರು ಕೃಪೆಗೆ ಪಾತ್ರರಾಗಬೇಕಾಗಿ ಈ ಮೂಲಕ ವಿನಂತಿಸುತ್ತೇವೆ.
ಮೊಕ್ತೇಸರರು
ಶ್ರೀ ವೆಂಕಟರಮಣ ದೇವಸ್ಥಾನ,
ರಥಬೀದಿ, ಮಂಗಳೂರು.