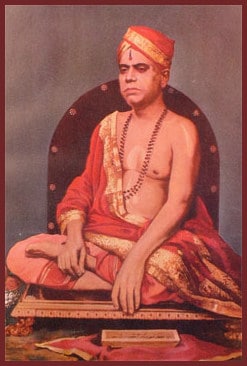 H.H Shrimath Bhuvanendra Thirtha Swamiji
Shrimath Bhuvanendra Thirtha was the seventeenth Swamiji of Shree Kashi Math after passing away of Shrimath Vasudendra Thirtha in 1859. When he was a minor, he had been selected by Shrimath Sumathindra Thirtha. He was a great ascetic and great scholar of Dwaita Vedanta, Dharma Shastra, Agama Shastra, Jyotisha, Ayurveda, Mantra Shastra, Shilpa Shastra etc. He was also noted for the depth of his knowledge and for the observance of religious rules.
He had performed the installation or renovation-installation ceremony in various temples. Thus he had installed the idol of Shri Lakshmi Venkatesha in Hosdurg (Kerala) on Vaishakha Shuddha Triteeya of Raktakshi Samvatsar, Sh. Sh. 1786 (1864). The Punyatithi Aradhana of H.H Shri Swamiji is being celebrated in the temple every year.
The reinstallation ceremony of the idol in Shri Venkataramana temple in Kundapura after renovation was also performed by H.H Shri Swamiji on Jyeshta Shuddha Dwitiya of Bhava Samvatsar, Sh. Sh. 1796 (1874). He had performed the Sahasra Kumbhabhisheka on Marghashira Shuddha Purnima of Yuva Samvatsar, Sh. Sh. 1797 (1875) in Shrimathananteshwara Temple in Manjeshwara. Shri Venkatapati temples in Kochi and Alleppey were other temples where H.H Shri Swamiji had reinstalled the idols. The last installation ceremony performed by H.H Shri Swamiji was that of the procession (utsava) idol of Shri Maha Maya in Shri Maha Ganapati Maha Maya temple in Shirali.
H.H Shri Swamiji had installed the idol of Lord Dhanvantari (presiding diety of Ayurveda) in Mattancheri (Kochi) and prescribed certain rules regarding the performance of pujas in the temple. Perhaps this is one of the two temples in India dedicated to Lord Dhanvantari. The other temple is at Yelaghppa, Sirsi taluk, Uttara Kannada.
Shrimath Bhuvanendra Thirtha Swamiji had travelled widely from Varanasi through Prayag, Bhatkal, Manjeshwara, Karkala and Mulki to Alleppey and Kochi. On one occasion when he was camping in Bhatkal, he had revived through the power of mantra a Navayat (Muslim) landlord's only daughter who died of snake bite. Her father donated a huge sum in gratitude and helped H.H Shri Swamiji to renovate the old Matha buildings in Bhatkal. His decendants used to offer kanikas to the Matha since then.
On another occasion, when H.H Shri Swamiji was in Bhatkal, one Cherdayya Prabhu (63 years) belonging to Goud Sarasvata Brahmana community approached H.H Shri Swamiji with his wife and narrated their pitiable condition, for they had no issues. Filled with compassion H.H Shri Swamiji gave them a mantra pinda. Later a son, was born to the couple. Shri Rama Prabhu, the son lived upto a ripe old age and died some years ago. On some other occasions H.H Shri Swamiji had given mantra pindas to various frustrated couples and in all these cases children were born to the couples. H.H Shri Swamiji had cured many diseases of his devotees by using Ayurvedic medicines.
When H.H Shri Swamiji was visiting Nagar in Shimoga district along with his retinue in 1866, some of the followers of the Sringeri Matha imposed, with the help of the local police, a restriction on the movement of H.H Shri Swamiji and his followers with honours and titles of the Kashi Matha. H.H Shri Swamiji had to stay there for about ten months during which time he complained to the Indian Commissioner in Mysore regarding this restriction. Finally, after going through the Matha records produced before him the Commissioner decided in favour of H.H Shri Swamiji and declared that H.H Shri Swamiji did have all the rights of travel in the entire Mysore State with full honours and titles.
H.H Shri Swamiji selected a vatu Giri Mallya by name, aged 10, and initiated him into sanyas on Jyeshta Shuddha Purnima and accepted him as his Shishya. He was known as Shrimath Varadendra Thirtha.
Document 39 deals with a plot of land with certain structures thereon in Banaras rented by Shrimath Bhuvanendra Thirtha Swamiji to one Jadu Nandalal, son of Rama Dayal, a resident of Durga Ghat in Banaras for an annual rent of Rs.60/-. The property was surrounded on four sides as shown in Fig. 13.
In the future, Shri Nandalal said that he would pay the annual rent to Shri Madhava Bhat, son of Shri Narasimha Bhat, who was the representative of H.H Shri Swamiji in Banaras. The document goes on to state that Shri Nandalal could not be evicted either by H.H Shri Swamiji or his representative as long as he continued to pay the rent. During the four months of the rainy season in each year, the said property shall be in the possession of H.H Shri Swamiji or his representative and not of Shri Nandalal. It shall be the responsibility of the owner or his representative to clear the road at the end of the rainy season.
If Shri Nandalal failed to pay the rent, the owner or his representative shall have the right to evict him and take possession of the said property. They have the right to recover from Shri Nandalal any outstanding rent by attaching his other property and Shri Nandalal shaH have no right to object to his.
The right to collect octroi duty from operators of boats who made use of the said property in connection with the landing of the boats near the river bank shall be delegated by H.H Shri Swamiji to Shri Nandalal, who shaH have the absolute right not to allow any boatman who refused to pay the octroi duty.
If H.H Shri Swamiji wanted to take possession of the said property, he shall have to serve notice of such intention six months in advance. In such an event, Shri Nandalal agreed to vacate the property.
Witnesses Sd/- Jadu Nandalal
Budu Sahu Dated 21st June 1883
Balakrishna Bhat (Thursday)
Many sculptors, artists and scholars had earned the grace of H.H Shri Swamiji and excelled in their art or profession. For example, the famous sculptor, Ral1jala Janardhana Shenoy of Karkala was one of them. Idols made from rock or alloys were installed in various towns in Kanara Districts, Kerala, Mysore etc. He even started a school of sculpture Bhuvanendra Shilpa Shala. Ranjala Gop:..la Shenoy, his son, who had recently won President's award is also a versatile sculptor. The four carved rock pillars in Shri Venkataramana temple, Karkala, among other idols including those in Shri Rama Mandira in Wadala, Mumbai and' in Shri Balaji Mandira in Kurla, Mumbai, bear testimony to the excellence he has reached in sculpture. The recently completed gigantic monolith idol of Gomateshwara for installation in Dharmasthala carved under his direction has become almost a legend.
In the field of literature, H.H Shri Swamiji had guided one Tellichery Vasudeva Shanbhag (resident of Mulki) in composing a great work in Kannada comprising 700 stanzas (vardhik shatpadi) in eleven chapters, entitled Goud Sarasvata Brahmanakhyana (This was printed in the Sharada Press, Mangalore in 1907). The work starts with a Brahmana named Muddana approaching Shrimath Bhuvanendra Thirtha Swamiji asking him various questions, and in answering, H.H Shri Swamiji describes the origin of Goud Sarasvata Brahmanas, their itirinary to distant lands from the banks of the sacred river Sarasvati, to Trihotrapura in Bihar, Gomantak, Bhatkal, Mangalore, Kochi etc., their rites and rituals and customs, their Gotras and Pravaras and Kuladevatas, their temples in Gomantak, etc. It was mentioned in the book that it was only the first half of the story and the later half would deal with the rest of the story * .
* The present author has not come across this other work. He will be grateful to anyone who could give any information on the second part.
Pavanje Laxminaranappayya was another personality, who studied Dwaita Vedanta at the feet of H.H Shri Swamiji and with the grace of H.H Shri Swamiji became a famous Kirtankara. He composed many Kannada Bhajans on various Gods especially those in Karkala and one with Shrimath Bhuvanendra Thirtha Swamiji.
Ramachandrayya was the President, Board of Trustees of Canara High School, Mangalore, the other trustes being, A. Subba Rao Pai, K. P. Rama Rao, Adige Shrinivasa Rao and M. Baba Pai. This Board was constituted on 31st December, 1891.
In November 1886, M. Ramachandrayya had written a letter to Shri Shrinivasa Prabhu of Shri Kashi Mallia Samsthan, at the Basrur Matha premises address, where Shrimau Bhuvanendra Thirtha Swamiji was camping with his retinue. The letter is in Kannada. A free rendering of the same is given below :
To Shri Shrinivasa Prabhu Shanubhag of Rajashri Kashi Matha. Salutations of Mangalore Ramachandrayya. We are all well in Mangalore upto today, Kartika Shuddha Dwadashi of Vyaya Samvatsar, corresponding to 8th November, 1886. Please keep us informed of the news about the well-being of the senior Swamiji, the junior Swamiji and of Swamiji's retinue. I have received your letter dated 2nd November, 1886 on 6th November, 1886. I have noted the contents of the letter to the effect that there was an abscess on the back of the Guru Swamiji, that it did not burst and that H.H Shri Swamiji had grown weak and looks tired. I have also received yesterday another letter dated 6th November, 1886 written by Shri Kundapura Narasimha Bhandari. He had informed me about the earlier treatment for the abscess and the current treatment by one Shivalli Brahmana from Gangoli. I have appraised Shri Urvi Annappayya about the whole affair and both of us are grieved very much. We strongly desire to visit the Swamiji. We regret that both of us cannot move out of Mangalore since I have to attend to certain court cases and Shri Annappayya has some pain in his arm. We pray God for the speedy recovery of Shrimath Bhuvanendra Thirtha Swamiji. As soon as you receive this letter, please inform both the Swamijis about this and inform me the news about the well-being of H.H Shri Swamiji by return post. We are ready to immediately dispatch any medicine or send any physician to Basrur if need be. We desire, that you should inform us by postcard, the news about the Guru-Swamiji, posted everyday . You should not ignore our request.
There is absolutely no objection in issuing the Rayasapatra to the woman mentioned in your letter to send the copies of documents she had asked for. However, this can wait till H.H Shri Swamiji recovers fully. All of you should whole-heartedly and with love look after the treatment of the Swamiji, without diverting your attention from this area. I will be sending the book for storing the duplicate Rayasapatra as desired by you.
With Pranams Sd/-
Ramachandrayya
It is clear from the above letter that the abscess had erupted on the back of Shrimath Bhuvanendra Thirtha Swamiji, a week before the letter was written. H.H Shri Swamiji attained mukti at Abhijin Muhurta on Marghashira Shuddha Pratipada of Vyaya Samvatsar, Sh. Sh. 1808 corresponding to Friday, 26th November, 1886. The following day, the grief-struck Shishya-Swamiji (Shrimath Varadendra Thirtha Swamiji) issued a Rayasapatra to all the temples informing this sad news to them. This is in Devanagari script and in Konkani language. A free rendering of the same is given below:
Shri Ramachandraya Namah (Seal)
(Title of the Swamiji)
With meditations on Lord Narayana we bless our dear disciples residing in Palliparth, belonging to Goud Sarasvata Brahmanas of Sasashti, Anthruji of Konkan Desh, both scholarly Vaidikas and Grihasthas, comprising all the Mahajans. We are engaged up to his day, Saturday, Marghashira Shuddha Dwiteeya of Vyaya Samvatsar, in our Matha buildings in Basrur in the worship of Lord Venkataramana and Lord Vyasa-Raghupati in the daily routines conducive to our way of life (sanyasashrama), such as religious discourse and incessantly keeping the mind your welfare, we are doing well with the Grace of our Guru and Deities. Keep us informed again and again the news about your well-being with due regard to the Matha Samsthan.
Since our Guru (Shrimath Bhuvanendra Thirtha Swamiji) attained mukti at Abhijin Muhurta on Friday, we have decided to perfrom recitation of the Vedas and Bhagavata, Deepotsava and Brahmanasamaradhana near the Vrindavana of the Swamiji, for ten days from today and Mahasamaradhana, Deepotsava etc. on the eleventh day (Monday, Dashami). Therefore we wish that all of you should attend all these functions with due regard to the Matha Samsthan and receive phala rnantrakshata.
With meditations on Lord Narayana (Seal)
The Vrindavana of Shrimath Bhuvanendra Thirtha Swamiji is located opposite that of Shrimath Keshavendra Thirtha Swamiji (second Guru of Shri Kashi Matha Samsthan) at Basrur.
An inscription has been found in 1986 on a stone slab fixed for decorating the Ashwattha Mantapa in front of Shri Tirumala Tatha Venkataramana Swamy Temple, Bantval. It is in the form of Kannada song to be sung in Raga Kapi, set to ashta tala. A parahrase of the song is given below :
"There is no one greater than a Guru. A song on such a Guru is being sung now. The feet (shelter) of the Guru is not bound by beginning, middle or end and is spread over the entire world. Vedas cannot understand this shelter. One has to put great efforts to understand the shelter. That is the refuge of good qualities. The great Yogis meditate on the feet of the Guru in their hearts. These feet are visible to Devatas, human beings, Uragas (Nagas), birds and animals as well as to the entire world comprising movable and immovable entities. This is the absolute Truth. Shrimath Bhuvanendra Thirtha Swamiji, the Shishya of Shrimath Sumateendra Thirtha Swamiji of the Guru Parampara of Shri Kashi Matha of Goud Sarasvata Brahmanas of Konkan Desh, adept in the eight-limbed Yoga comprising Varna, Niyama etc. and blessed by Lord Shrinivasa of the temple situated at Vatapura (Bantval), with the power of Yoga attained Sahajananda Samadhi, took birth on this earth, being bound by Prarabda Karma, but attained a state of equilibrium (unmoved by ups and downs of life), and left his mortal body voluntarily at noon, Abhijin Muhurta) on Friday, Marghashira Shuddha Pratipada of Vyaya Samvatsar, Sh. Sh. 1808 and entered the state of Atmananda (Bliss of Atma) and meritorious Mokshananda dropping the Upadhi, with the sun shining in the sky of Chitta (Chidakasha). In order to perpetuate the memory of Shrimath Bhuvanendra Thirtha Swamiji, Shri Shrinivasa Baliga, the fifth son of Shri Bantwal Venkatesha Baliga of Kashyapa Gotra Vatsa Anupravara who had borne on his head the dust from the lotus feet of the Guru and who is the devotee of the Swamiji, has installed this Deepasthambha (pillar of lamps) on Tuesday, Magha Shuddha Purnima, corresponding to 8th February 1887.
Shrimath Bhuvanendra Thirtha Swamiji attained moksha after casting off of his mortal body on Friday, the 12th day of Vrischika Masa of Vyaya Samvatsar".